Everyone has been raving about Sigma brushes and how they are up to the standard of MAC's brushes but less than half of the price! I've never really had a collection of brushes all from one brand, just a mix-match collection of what high streets chains have on offer, so I decided to buy a Sigma set to see what all of the hype was about. Seeing as I already have a lot of brushes and I didn't know if I would like Sigma I went for one of their smaller, cheaper kits, this is the Make Me Classy Travel Kit!
It comes in this sleek black tube that's ideal for travelling as it will easily fit into your bag! It's about 8 inches tall and 3 inches wide. The seven brushes fit perfectly into and when opened the two halves of the case can act as storage pots for when you're not on the move!
Sigma make several different variations of the travel kits (they're all miniature, simplified version of the larger twelve brush kits). I went for Make Me Classy because it came with the brushes that I though I would get more use of. They came with a leaflet that described each one and its use!
The seven brushes included (in the order that they are pictured) are:
Small Angle - E65 -Essential for the application of gel or cream eye liner on the upper and lower lash line. Synthetic brushes.

Eye Shading - E55 - Soft and dense with a rounded finish. Can be used to apple pressed or loose eye shadows and pigments. Natural bristles.

Large Angled Contour - F40 - The angled shape makes this brush ideal to apply blush or contour shades. Natural bristles.

Large Powder - F30 - Very dense with a rounded top. Ideal to apply powder products on face and body. Natural bristles.

Foundation - F60 - Can be used to apply liquid or cream foundation. Recommended to apply moisturisers and conceal large areas. Synthetic bristles.

Tapered Blending - E40 - Rounded and tapered top. Specially designed to apply and blend colour on the crease. Natural bristles.

Pencil - E60 - Precise application of colour on the crease, outer corner, upper and lower lash line. Natural bristles.
I used the brushes for the first time today. I resisted using any of the brushes that I already own and created my look with purely all Sigma brushes. I used all of the brushes apart from the Pencil and I have to say that they were brilliant. My favourites have to be the Foundation, Large Powder and Large Angled Contour brushes. My foundation and blush looked far better than it has done in months after using these brushes so I don't have a bad word to say about them! My foundation looked smooth and went on so evenly, it was brilliant. I also loved the eye make up brushes, especially the Eye Shading and Tapered Blending ones. The shading one let me apply shadow much faster than the Urban Decay ones that I've been using over the past few months. I know I've only used them once but I love these brushes! I'll definitely carry on using them and will invest in a bigger set in the future!
Make Up with Sigma Brushes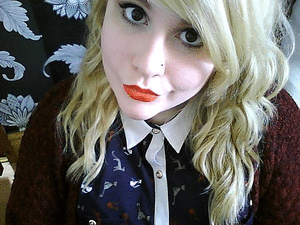 What do you think of Sigma's brushes?